The Dickie Beaus
Ladies and gentlemen put your hands together for the hot-swinging, table-rocking, bugle-playing, jive-hopping backing band, The Dickie Beaus!
Formed in April 2014 by experienced band leader and jazz guitarist, Elliott Lewis, The Dickie Beaus five-piece band are made up of trumpet, guitar, piano, drums and double bass and they cover all traditional big band arrangements.
The Daisy Belles are fully adaptable and can perform as a trio with quality backing tracks or with the accompaniment of The Dickie Beaus.
Here's an insight into the immensely talented guys who make up this wonderful band: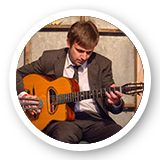 Elliott Lewis
Guitar
Fusing traditional Latin and jazz flavours, Elliott keeps the jives flowing with his sensitive, lyrical and exceptionally dexterous Guitar style. His influences come from the likes of Django Reindhart, Les Paul, Charlie Christian and many more.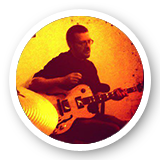 Rob Coates
Double Bass
Rob is a fabulous guitarist in his own right but he knows exactly how to get your feet stompin' with his bass-throbbing, jazz-tastic grooves on the double bass!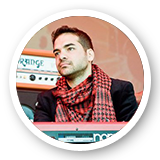 Ben James
Piano
Twinkling the keys with the conviction of a man twice his age, Ben is a talented young hipster whose magical touch puts the icing on cake in The Dickie Beaus band.
Tom Dempsey
Drums
Tom is the backbone of the rhythm section and an unmistakable dark horse. He is an incredibly skilled drummer with a superb awareness for different musical styles.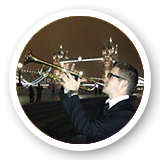 Jacob Phillips
Trumpet
Boldly playing the brass, Jacob is the youngest member of The Dickie Beaus and a highly talented individual who recently graduated from Trinity Laban Conservatoire of Music and Dance, London. He's a star in the making!