Sarah Bownes
Sarah started her performing career at the age of seven, performing at her village's Christmas production. Having always had a passion for music and performance, she joined the school choir and orchestra, playing the 'cello. Determined to study musical theatre in London, she first gained an HND in Dance at Newcastle College before being accepted to study at The Urdang Academy in London.
Since completing her professional diploma in Musical Theatre at The Urdang Academy, Sarah has taken on a number of different roles nationally and internationally: Peggy in 'Godspell', Ado Annie in 'Oklahoma' and Elvira in 'Blithe Spirit' to name a few.
Sarah spent five years sailing aboard cruise ships as a singer, dancer and actress, becoming dance captain in her final three years. After leaving the ships she joined a four-part harmony group, Fortissimo.
In 2012 Sarah joined the cast of '80's Mania' as a dancer, becoming dance captain the following year; a position she continues to hold. Currently Sarah is appearing as Patty Andrews of The Andrews Sisters in the touring show 'A Salute to the 1940's', where she met Claire Hudspeth and together they formed their own entertainment company: Razzle Dazzle Productions. With Razzle Dazzle Productions Sarah performs throughout the country.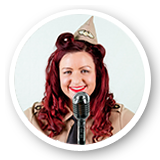 Claire Hudspeth
Claire has always had a keen interest in performing arts and throughout her teenage years she began taking ABRSM singing exams and musical theatre LCM qualifications to Grade 8, gaining distinctions throughout. She continued to develop her passion for performing after leaving school and enrolling on a BTEC National diploma course in Musical Theatre in Nottingham. After successful completion of the course she left with three distinctions. Claire then began treading the boards, working as a full-time musician, providing entertainment in hotels, corporate events and touring holiday camps as a solo artist. She also performed nationally with duo 'The Dream Divas' and as part of many successful wedding bands.
Claire is a versatile performer and has had many leading roles within several musical productions, bringing to life characters such as: Mrs Potts in 'Beauty and the Beast', Mrs Lovett in 'Sweeney Todd' and Velma Kelly in 'Chicago' to name a few.
Claire also worked for Warner Leisure Hotels, staring as a resident team performer and as a band singer at Thoresby Hall Hotel. After successful completion of her contract she began touring theatres and events across the UK with wartime production show, 'A Salute to the 1940's'. Currently Claire is performing a tribute to Gracie Fields and in addition plays Maxene Andrews of The Andrews Sisters, beginning Claire's knowledge and appreciation for all things vintage! Meeting on tour, Claire then joined creative forces with Sarah Bownes where they began their vintage entertainment company: Razzle Dazzle Productions.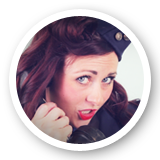 Marie Herrington
Marie's talent for performance and music began during her school years, when she starred in her very first leading role as Blousy Brown in 'Bugsy Malone'. Keen to develop her skills, Marie began to take her classical singing with piano exams
which she successfully passed with flying colours.
Marie's musical talents soon gained her recognition and she was recruited to join the school girls' choir, where she was given the opportunity to shine with solo and group performances. Highlights of the choir included touring cathedrals, theatres and events across the UK.
Alongside her musical family, Marie shared a common interest in fundraising for much needed charity causes, combining their talents to produce charity pantomimes and musical theatre shows, in which she would play many leading roles.
After leaving school Marie began to take her A-Levels in Performing Arts. Alongside her musical education, Marie became a music vocal coach, privately assisting both adults and children with their vocal techniques.
Upon successful completion of her A-Level qualifications, Marie began singing professionally with Claire Hudspeth in the successful duo, The Dream Divas, touring hotels, corporate events and holiday parks across the UK. Marie was asked to join The Daisy Belles and now performs internationally as part of the trio, as well as performing as a classical wedding singer and within a vocal harmony duo.